AEROSEAL CASE STUDY
HOMEOWNER FINDS DUCT SEALING THE KEY INGREDIENT IN RECENT RENOVATION
BUILDING: Two-Story Home
LOCATION: North York, ON
PROJECT: Older Home, Recently Renovated Prior to Occupancy
HVAC COMPANY: DAVESDUCTS
GOAL: Find any deficiencies related to air leakage and correct prior to occupancy; concerned that daughter's bedroom will be cold in the winter and too hot in the summer; just like their previous house.
RESULTS: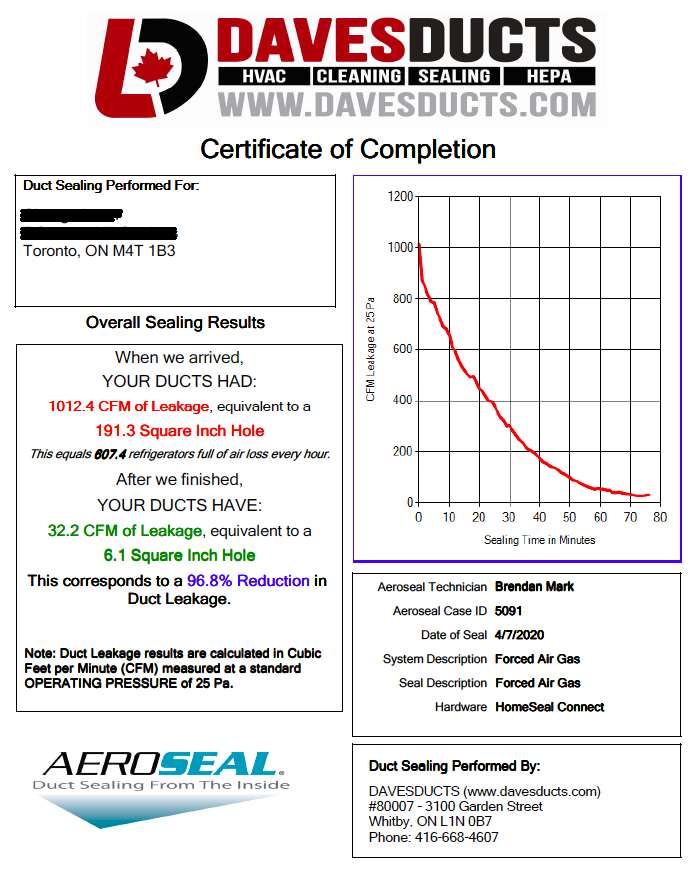 After a recent renovation, this homeowner wanted to ensure they wouldn't be uncomfortable in their new home prior to moving in.  The pressure test performed revealed that the 3 TON 13 SEER air conditioning system would never have functioned as designed as all that conditioned air being created by her cooling equipment would've just been leaking through their home's floors, walls and ceilings; where their ductwork travels.
By sealing their ductwork – we can now guarantee that her heating and cooling equipment will operate as designed; providing their family a lifetime of even temperatures, energy savings and less dust in their newly renovated home.
For additional resources, please visit:
ENERGY STAR – Duct Sealing Benefits
ENERGY STAR – Consumer Education
AEROSEAL Guide – How You Can Save Money On Your Energy Bills
AEROSEAL Guide – Duct Leakage on System Performance
COMFORT INSTITUTE – Consumer Facts
COMFORT INSTITUTE – Equipment Sizing is Important!
For more information on how AEROSEAL DUCT SEALING can benefit your home, please call:
416-668-4607 or email info@davesducts.com