---
APCO-X UV Light for Your Furnace & AC (Evaporator Coil)
APCO® whole-house air treatment systems detox the air as it is circulated by the HVAC system. They feature a unique combination of UV-C light and activated carbon which achieves unmatched microbial and odor reduction without producing any harmful ozone. This technology is particularly effective at reducing odor-causing volatile organic compounds (VOCs) which include toxic chemical vapors like formaldehyde and toluene.
• 33% more effective than previous model in laboratory tests
• V-Twin element with over 65% more effective carbon surface area
• EverCarbon™ cells with proprietary antimicrobial  nanotechnology
• 3 year UV-C lamp
• LED status and lamp fault indicator
• Translucent polycarbonate housing
• Face-plate rotates for vertical or horizontal installation
APCO-X Specs   |   APCO-X Manual   |  APCO-X Brochure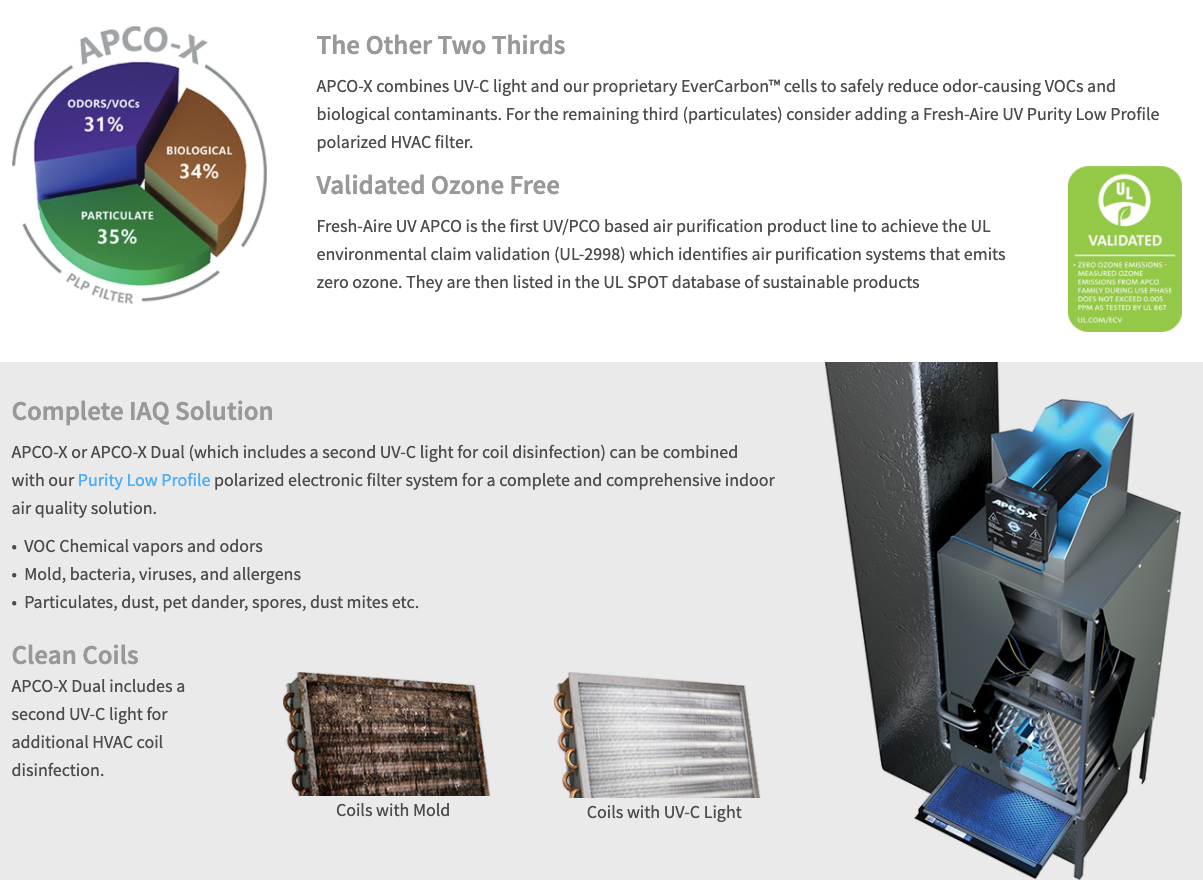 For additional information visit:
www.ashrae.org/technical-resources/resources
www.cdc.gov/coronavirus/2019-ncov/index.html
Fresh-Aire UV systems are installed within the HVAC system and are not intended to diagnose, treat, prevent or cure any disease.The systems have not been tested on coronavirus and is not a medical device.
*Tested by Antimicrobial Test Laboratories (ATL)99.999% reduction of MS2 bacteriophage. Laboratory test results available upon request.
For more information – please call 416-668-4607 or email info@davesducts.com
PRICING IN CAD; PRO INSTALLATION FEE IS INCLUDED.
| | | |
| --- | --- | --- |
| APCO X | Includes Materials + Installation + Lifetime Warranty (excluding UV Light, needs replacement every 3 years) | $999.00 + tax |